Real People, Real Results
Our programs emphasize simple lifestyle changes you can make to impact your health and weight management in dramatic ways. There's no fads, no gimmicks, no extremes. Just ways for you to achieve your goals. Take a look at how some of Dr. Surkunte's patients created their New Viva Lives.
---
"I did a lot of research after having tried multiple things to lose weight. There were things that worked BUT they didn't stick, I figured the only way I would be able to lose weight and keep it off in a healthy way I would have to find a Doc that would help retrain my brain.
After lots of research, I found Dr. S who is awesome, understood my frustrations with all the other weight loss programs out there. She helped me get on a customized plan for me, not some cookie-cutter plan other places do. A plan for my body and how my body treats weight loss. I'm down 50+ lbs as of today, healthier than ever before so I can be sure I'm around for my 10-month-old daughter.
There are lots of programs out there BUT when you choose Dr. S, she is going to be sure to teach you the skills you need and understanding how YOUR body individual body handles foods and weight loss so you not only lose weight but understand how to keep it off."
- J.S.
---
"Dr. Surkunte is wonderful! I've been seeing her every second week or so for 6 months, the last couple through telemedicine because of the lockdown. She is compassionate, empathetic, doesn't pass judgment, and best of all, is extremely thorough, detailed, and open in her interactions with you. She takes her time to listen, believes in looking at you and your lifestyle holistically in trying to get to the root cause/causes of your problem, and then working with you to find solutions.
She works with your other doctors, proactively calls them to make sure they are aware of changes she is suggesting/making to your lifestyle and takes their opinion & advice on board. What is lovely is that she also celebrates your successes as enthusiastically as you do, and makes you feel that you truly do have a support system. You can't really go wrong with her."
- K.W.
---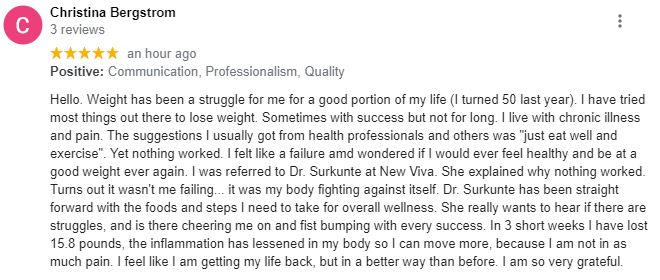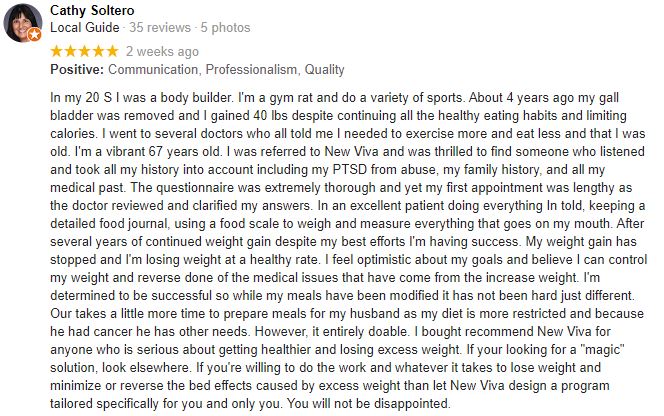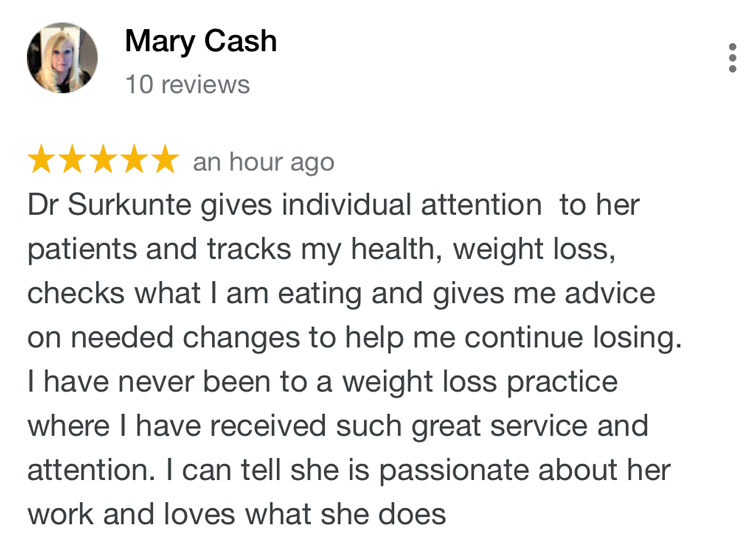 "I was referred by my pain management doctor and decided to try a different approach that I hadn't tried before. It offers a very common-sense accountable system with Dr. Surkunte who is someone who cares about my success.
I was at a point where I needed to lose weight. I was not feeling well physically and was tired of not having enough energy on top of not feeling good about how I looked. I mainly struggled with accountability. I would start trying to lose weight and not stick to it because it became too difficult.
I found Dr. Surkunte through another doctor I was seeing and decided to try. I began the program and was ready to lose weight. I have learned many things through the program, not only about how to lose weight, but why I wasn't able to be successful in the past.
I am now able to fit into clothes that I haven't worn in years. I am now at the point that I am more confident and feel that this is not just a yo-yo diet and more of a lifestyle change.
Dr Surkunte and her practice helped me by being a wealth of knowledge in teaching me how to lose weight and not just telling me. I have learned more about how to eat and treat my body instead of working off of a worksheet and being told what to do. Understanding how and why we can't lose weight and what to do to be successful in losing weight is the reason I have been able to get to where I am now.
I have been able to do more physical activities with my kids as well as at work. I have more energy and feel better about how I look."
---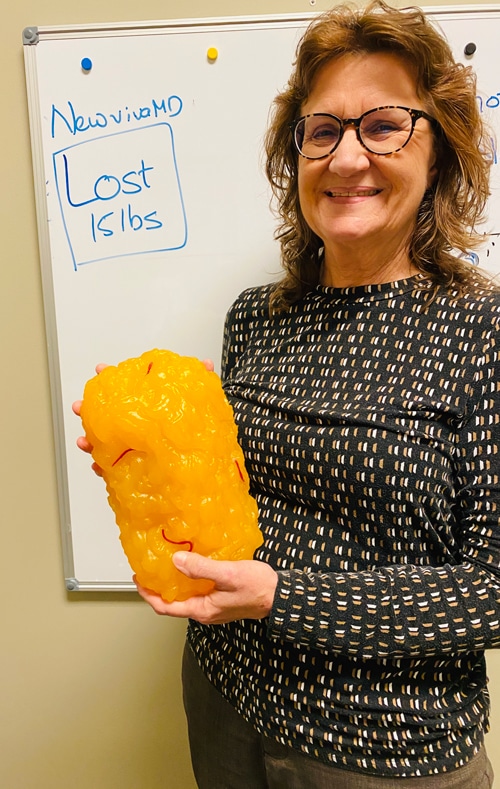 "I have gained and lost and gained and lost weight, I don't know how many times. My mother told me about this weight loss program that she wanted to try, and I agreed to participate as well. At first I was skeptical. As I said, I have gained and lost weight many times. I resolved to give it a chance and the first week I lost four pounds. Four pounds! I have tried all kinds of diets, and never had these kinds of results with any of them. There are no drugs, just a healthy eating plan customized for me. I do not get hungry between meals, and have no snack cravings. I have the incentive to continue to change my eating habits to maintain long term results and live a healthy lifestyle. I highly recommend Dr. Surkunte and this program!"
---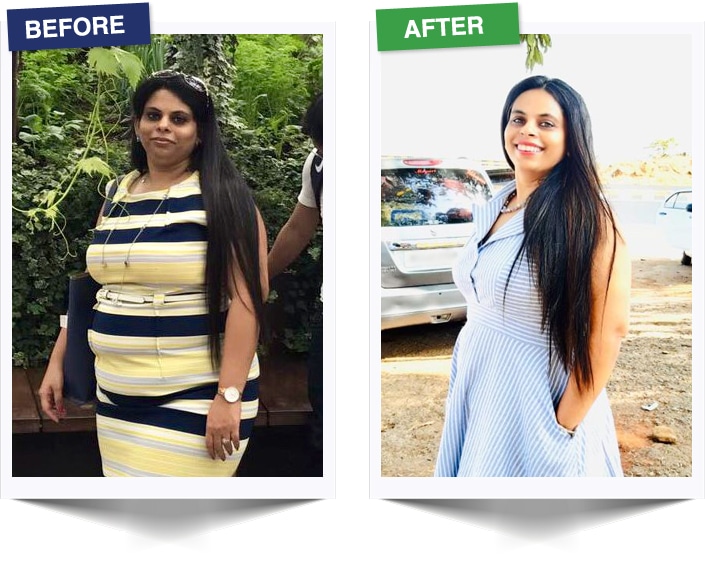 OFFICE HOURS
---
Monday
7:45am - 4:30pm
Open for Appointments and Phone Calls
---
Tuesday
7:45am - 4:30pm
Open for Appointments and Phone Calls

---
Wednesday
7:45am - 4:30pm
Open for Appointments and Phone Calls

---
Thursday
7:45am - 4:30pm
Open for Appointments and Phone Calls

---
Friday
8:00am - 3:00pm
---
Saturday & Sunday
Closed