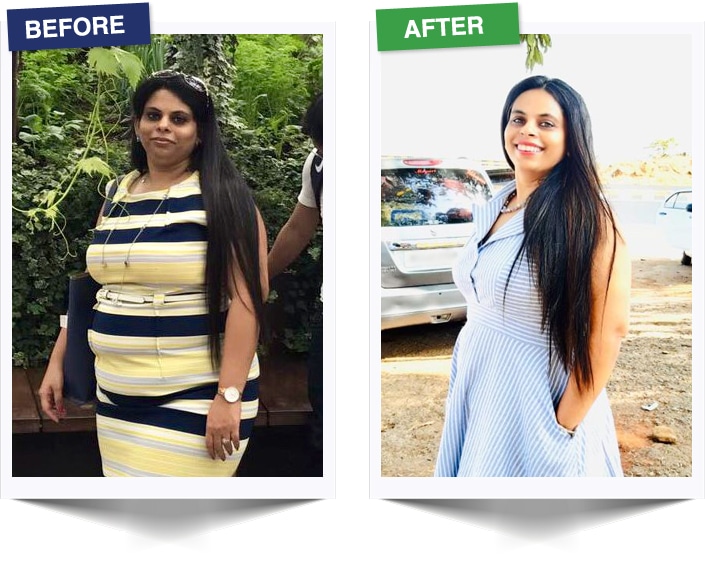 ---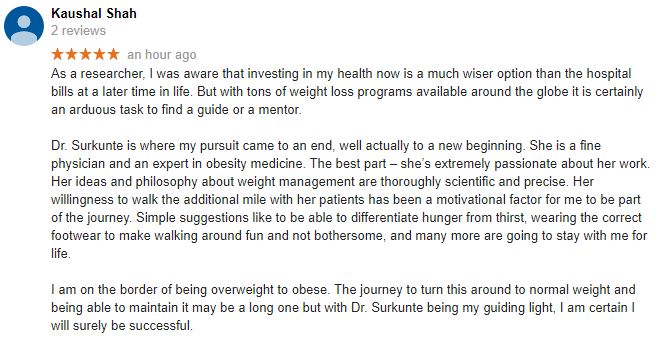 ---
"One morning I woke up, looked in the mirror, and cried for a while and then told myself to pull it together, I didn't recognize my own reflection, I had gained so much weight which I never thought of and then came the turning point: I approached Dr. Surkunte to support me in my journey of weight loss.
Our journey started with making me understand what is this weight loss program all about. She explained to me what all should I change in my lifestyle, right from monitoring my daily routine, to giving me guidance on what all I should eat, my exercise routine she uses to take an update on each and every aspect in detail on a regular basis. I started working out more, eating healthy, being positive and became more confident. I never could even walk a mile and now have been doing marathons which is the most beautiful part of my journey. I lost 31 lbs of weight with amazing inch loss and it feels that "Nothing can beat the joy that comes after working hard and achieving your goal." Dr. Sukunte helps me to prove that proverb can really mean what they are meant for "Where there is a will there is a way!!"
Thanks to Dr. Surkunte who has been my constant source of motivation during this really hard journey. My transformation was not so easy, but it has surely been worth it all with all her help and support!"
- Alice
---
My journey to inner peace and stronger tomorrow
"You look amazing! Tell me what you've been doing is the buzz word around me & I smile and truth is I have started eating healthy. The truth behind that is I didn't just lose weight to look good in clothes. I did it for my health," As Dr. Arpita Surkunte took on the challenge with me and "I knew that if I didn't lose it, I would set myself up for health problems later as explained by her." I remember telling myself that it's ok to be chubby, I love to eat, why do I have to start an exercise. This attitude finally made me 40 pounds heavier. One day I had a discussion with Dr. Arpita and she motivated me to work out and eat healthy every day. Initially, it was tough as I had an appetite to eat a lot of junk, fried, Sweets, etc., But the motivation and zeal which Dr. Arpita showed in me helped me to overcome all this and I have started on a path of positive attitude and gratitude which helped me lose almost 15 pounds in the last 2 months. She is always available and gives amazing guidance.
Thanks to Dr. Arpita she has been a strong pillar and made me believe on this quote "The Struggle You Are in Today Is Developing The Strength You Need for Tomorrow"."
- AM
OFFICE HOURS
---
Monday
Closed
---
Tuesday
8:00am - 5:00pm
---
Wednesday
Closed
---
Thursday
Closed
---
Friday
Closed
---
Saturday
8:00am - 2:00pm