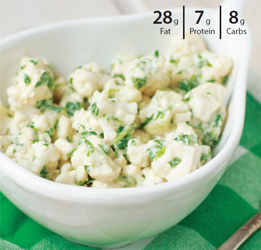 Ingredients:
medium heads of cauliflower, diced
6 large hard-boiled eggs, chopped ( optional )
½ cup celery, diced
1½ cups mayonnaise
1 cup dill pickles, diced
½ medium red onion, finely chopped
1 Tbsp. apple cider vinegar
¼ cup yellow mustard
Salt and pepper to taste
Paprika (optional)
---
Directions:
Steam cauliflower until tender-crisp, about 5 minutes. Transfer to a large bowl and let cool slightly.
Add eggs.
Add celery, mayonnaise, pickles, onion, vinegar, and mustard. Toss to combine until cauliflower is evenly coated. Taste and adjust seasoning as needed. Sprinkle with paprika (optional).
Chill until ready to serve.
Enjoy!
---
Gluten-Free
Makes 10 servings
Prep time: 5 minutes
Cook time: 10 minutes
---
Nutrient totals (per serving):
Calories: 309
Protein: 7 g
Carbohydrate: 8 g
Fiber: 28 g
Added sugar: 0 g
Fat: 28 g
OFFICE HOURS
HOURS MAY VARY.
With COVID, we are doing telemedicine appointments, so hours may be different than what is listed. Call & confirm before you drive to the clinic.
---
Monday
Closed
---
Tuesday
8:00am - 5:00pm
---
Wednesday
Closed
---
Thursday
8:00am - 5:00pm
---
Friday
Closed
---
Saturday
8:00am - 3:00pm